6 Outlet Grounded Wall Tap Surge Protector 15A Wall Tap Power Adapter with 2 USB Ports - 1200 Joules
Ultrasonic Cleaner with Digital Timer - Jewelry, Eyeglasses, Watches, Rings, Necklaces, Coins
[ULTRASONIC CLEANER CLEANS WITH WAVES] Using only water, the ultrasonic cleaner generates 42,000 Hz of ultrasonic waves that gently remove dirt and grime in short amount of time without using harsh chemicals. Safe for almost anything, like jewelry, watches, eyewear, personal care like dentures or shaving blades, and small household items, like keys and small tools, or utensils.
[18 PRESET CYCLE TIMER FOR A CUSTOMIZED CLEANING] Choose one of the 18 preset cycle times on the ultrasonic cleaner to clean items in as little as 90sec to 30min for those items that need a little extra.
[3 EASY TO USE BUTTONS WITH EASY TO READ DISPLAY] With the push of the time button, you give yourself access to the 18 timer setting s on the ultrasonic cleaner. Push the reset button to adjust your timer setting. Push the ON/OFF button when you are finished cleaning. The easy to read digital LED display illuminates to show you where the cleaning process is at.
[GENEROUS WATER TANK WITH SPACE FOR ANY ITEM] The ultrasonic cleaner has a stainless steel tank that holds 20oz (600 mL) of water, and with interior dimensions of 155x95x52mm (6.1x3.7x2.1in), you can fit almost anything from the size of an earring up to the size of a pair of eyeglasses.
[LIMITED LIFETIME WARRANTY] Includes a Limited Lifetime Warranty
Videos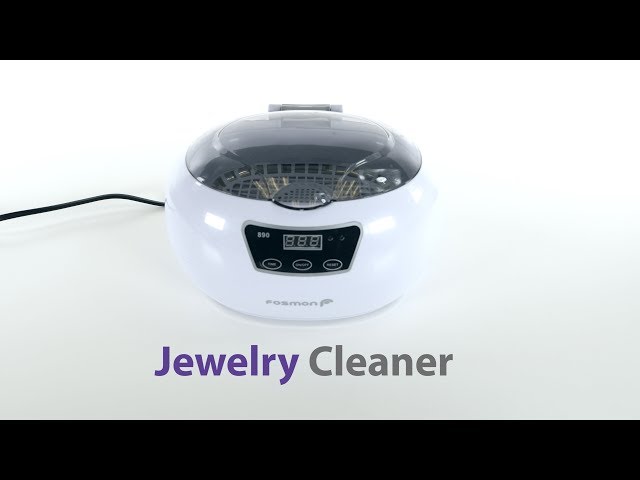 Fosmon Ultrasonic Jewelry Cleaner Keeps Your Valuables Looking Like the Day You Bought Them
Fosmon's ultrasonic jewelry cleaner uses only water and its ultrasonic waves to gently remove dirt and grime in a short amount of time without using harsh chemicals. Clean everything from necklaces to watches, to coins.
Have Your Jewelry Sparkling In No Time
The ultrasonic cleaner provides you with 18 preset timer settings to personalize the cleaning cycle based on what you are cleaning. You can have your items clean in as little 90 seconds or 30 minutes for the items that may have years of buildup.
You Can Clean Almost Anything
If you have necklaces earrings, rings, bracelets, waterproof watches, personal care items, or small utensils, you can clean them all with the easy to handle basket and watch stand, included with the ultrasonic cleaner
Simple to Operate, Simple to Read
The ultrasonic cleaner is built with a simple 3 button design, and an easy to read timer. Push the time button until your timer setting appears. If you go beyond your desired time, simply push the reset button, allowing you to reset the time. When you're done with cleaning, press the on/off button, leaving the ultrasonic cleaner ready for the next wash.
Plenty of Room For All Your Items
The ultrasonic cleaner has a stainless steel tank that holds 20oz (600 mL) of water, and with interior dimensions of 155x95x52mm (6.1x3.7x2.1in), allowing you to fit most small items.
Limited Lifetime Warranty
This product comes with a limited lifetime warranty. Please refer to Fosmon's website for more information.
More Information
UPC
879565510282
Specifications
Specifications

Overall Size: 8.1x6x5.2in (206x152x132mm)
Tank Size: 6.1x3.7x2.1in (155x95x52mm)
Tank Capacity: 20oz / 600ml
Power: 100-120VAC 35 watts
Frequency: 42 KHz
Cycle Times: 18
Timer Settings: (90sec to 30min)
Weight: 1lb 13oz (833g)
Conforms with PSE


Package Includes

Ultrasonic Cleaner x1
Plastic Basket x1
Plastic Watch Stand x1
Instruction Manual x1

Color
White