[ETL Listed] 125V/15A/60Hz 24-Hour Programmable Timer for Single Polarized Outlet w/ 1 On/Off Program Setting - White - 2 Pack
Garnen [FDA Certified] BBQ Marshmallow Roasting Sticks With Pouch - 8 Pack
[SAFE FOR CHILDREN & ADULTS] Parents, are you always worried your kids might get too close to the fire pit, but you don't want them to miss out on the fun? These 34-inch extendable telescoping marshmallow roasting sticks allow your children to roast things over a fire from a safe distance, letting them safely join in the fun.
[FDA CERTIFIED & ENVIRONMENTAL FRIENDLY] These marshmallow BBQ sticks are made of non-toxic and heat-treated FDA approved stainless steel. The high quality materials keep the roasting skewer forks from rusting and making them safe to reuse. Using reusable grilling sticks helps minimize the waste from onetime use disposable plastic sticks.
[EASY & CONVENIENT] The 34-inch extendable telescoping skewers allow you to cook over a fire from a comfortable distance. Each skewer has an identical colorful plastic handle grip with a 360-degree rotating fork axle designed for optimum roasting. 2 prong rubber tips are included for each roasting stick, plus a canvas carrying case pouch for easy storage and transport.
[BONDING EXPERIENCE] This is a must-have barbecue accessory kit for families with kids, ideal for grilling or roasting foods like marshmallows, hot dogs, sausages, corn, veggies and more. The set includes 8 skewers, letting the whole family take part of the fun. Great for campfires, backyard parties, using a fire pit, barbecuing, camping and more.
[LIMITED LIFETIME WARRANTY] This product comes with a limited lifetime warranty. Please refer to Fosmon's website for more information.
Videos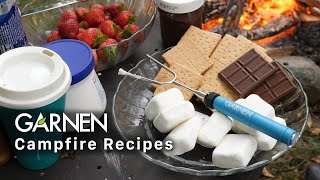 Safety First
Protect your kids and keep them a safe distance from the fire with our roasting sticks. Ensure you and your kids stay safe while grilling. Extend your roasting stick to grill from a distance. The 8 pack ensures everyone gets their own stick for grilling.
FDA Certified
Non-toxic and heat treated. FDA approved. Built with high quality metal material while being environmental friendly. You can rest easy knowing you are using a high-quality, FDA-approved product - no more need to waste wooden sticks.
Easy & Convenient
The 34 inch telescoping skewers allow for cooking from a distance comfortably, and increased control with the rotating handle allows for more optimum handling. Make cleaning easier and storage more convenient with the included pouch.
Food & Family Bonding
Garnen's roasting sticks are ideal for making the perfect s'mores, barbecues and veggies. You name it - whatever you can grill. Grill around the fire and spend time bonding with your family. Nothing goes better with quality family time than food.
Limited Lifetime Warranty
We have served millions of customers for more than 10 years and every product comes with a limited lifetime warranty. Got a question? Reach out to our experienced and dedicated USA based customer support 24 hours a day, 7 days a week. Please refer to Fosmon's website for more information.
More Information
UPC
849287095008
Specifications
Specifications
Package Includes

Garnen Roasting Sticks (8 pack) x 1

Pack Quantity
8