Anti Theft Burglar Bike Alarm with Remote, Waterproof Vibration Triggered Battery Operated Loud 113dB Wireless Siren for Bicycle, E-Bike, Motorcycle, Scooter, Cart, Trailer, Equipment, Fence
[LOUD 113dB BIKE ALARM] Fosmon's 113dB loud vibration bicycle alarm with remote control is a great tool to protect your bike from theft. Keep your bicycle, e-bike, scooter, motorcycle, and more secured with this alarm.
[VIBRATION SENSOR AND SOS ALARM] When armed, this anti-theft bicycle alarm responds to vibration or being moved. You can manually adjust the 7 different sensitivity levels and 3 volume levels to best fit your setup. SOS function will detect an accident if the vehicle is tilted more than 45° from its original position, and then make a beeping sound to signal for help.
[EASY TO SET UP] This anti-theft vibration alarm is easy to set up. First, determine the mounting surface and clean accordingly. Then apply the provided adhesive or mount using the cable ties and brackets on the backside of the alarm. An alarm can be paired with up to 8 remotes.
[MULTI-PURPOSE ALARM] Use this anti-theft alarm for a variety of purposes: as a luggage alarm, fence alarm, trailer alarm, and more. This device works great as added security when used with locks as well.
[LIMITED LIFETIME WARRANTY] This product comes with a limited lifetime warranty. Please refer to Fosmon's website for more information.
Videos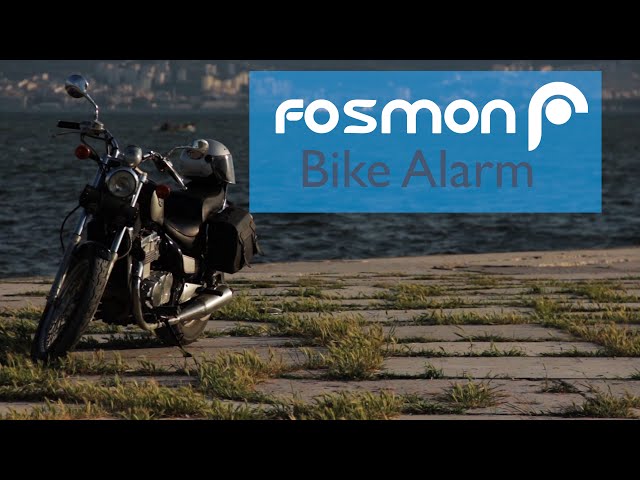 Loud 113dB Bicycle Alarm
Protect and deter theft with Fosmon's 113dB Bicycle Alarm. This alarm works great to provide additional security for bicycles, motorcycles, e-bikes, scooters, carts, trailers, and other expensive equipment.
Vibration and SOS Sensor Alarm
This bike alarm responds to vibration and being moved. When nudged, a small beep will sound, and when it is moved the alarm will trigger for 30 seconds or until stopped. With SOS enabled, the alarm will automatically make a beeping sound when your vehicle falls over due to accidents.
7 Levels of Adjustable Sensitivity
Control the sensitivity of your vibration sensor alarm with 7 levels of adjustment. The alarm sound can also be set to 3 different volume levels. This allows you to set up your bike alarm however you want it.
Setup is Easy
This anti-theft alarm is easy to set up and use. First, clean and dry the desired mounting surface. Second, apply adhesive on the back of alarm and place on desired surface, or thread cable ties through brackets on back of alarm and tie around the desired item. After the alarm has been mounted, use the remote to arm and disarm accordingly. You are able to pair up to 8 remotes with one alarm, or use one remote to control multiple alarms.
Multi-purpose Alarm
This device can be used for more than just being a bicycle alarm. With IP55 water resistance and the ability to be mounted with adhesives or cable ties, you can use this device almost anywhere. Increase security by using this as a luggage alarm, trailer alarm, fence alarm, window alarm, and more.
Limited Lifetime Warranty
We have served millions of customers for more than 10 years and every product comes with a limited lifetime warranty. Got a question? Reach out to our experienced and dedicated USA based customer support 24 hours a day, 7 days a week. Please refer to Fosmon's website for more information.
More Information
UPC
879565005795
Specifications
Specifications

Alarm Battery: 3x AAA
Remote Battery: 1x 12V/27A
Wireless Range: 65ft / 20m
Alarm Dimensions (L x W x H): 3.73 x 1.65 x 0.91 inches // 94.85 x 42 x 23.2 mm
Remote Dimensions (L x W x H): 2.41 x 1.18 x 0.5 inches // 61.4 x 30 x 12.6 mm
Water Resistance: IP55


Package Includes

1x Alarm (batteries included)
1x Remote (battery included)
2x Cable Tie
2x Double Sided Tape
1x Triangular Plate
1x Screwdriver
1x Quick Start Guide
| Icon | Label | Type | Download |
| --- | --- | --- | --- |
| | 51087 Wireless Waterproof Anti-Theft Vibration Alarm Web Manual | pdf | Download |