2x1 or 1x2 HDMI Bi-Directional Switch with HDCP Passthrough (Supports 3D)
[LATEST HDMI 2.0 STANDARDS] Why HDMI 2.0 for 4K? Most high frame rate movies and games are running at 60fps. Our Fosmon HDMI switch delivers HDMI 2.0, so you can enjoy full 4K 3D resolution with higher frame rate 2D content (up to 60fps).
[SUPPORT 4Kx2K 60Hz UHD] The Fosmon HDMI switcher supports 4K@60Hz, 3D, 1080, HDCP, and uncompressed/compressed audio formats. Enjoy playng your PS4 PRO, or switch to your PS3, Xbox One, Roku Fire TV, Blu-ray, or Nintendo Switch/Wii without signal loss.
[BI-DIRECTIONAL 2X1 OR 1X2 HDMI SWITCH BOX] Getting Fosmon's 2 Port HDMI switch is a cost-efficient way to add more ports to your TV. Easily switch between your HDMI sources in two different ways: 2 input to 1 output or 1 input to 2 output. (Not simultaneously)
[STABLE PC BOARD] The HDMI switch's high quality PC board helps to minimize signal loss and screen flickering. It's powered by the HDMI source, no power adapter required, and is Plug and Play.
[LIMITED LIFETIME WARRANTY] Join millions of satisfied customers with our limited lifetime warranty, backed by our experienced and dedicated USA based customer service.
Videos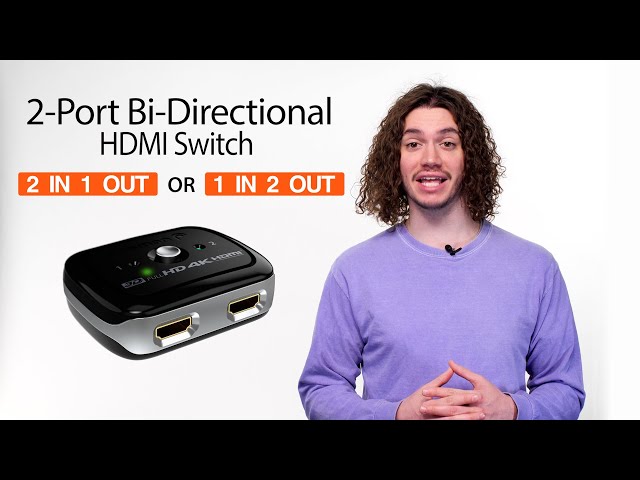 Latest HDMI 2.0 Standard
Why HDMI 2.0 for 4K? Nowadays, most high frame rate movies and games are running at 60Hz. With Fosmon's 2-Port HDMI switch with HDMI 2.0, you can enjoy full 4K 3D and 60Hz frame rates.
Supports 4Kx2K 60Hz UHD
Fosmon's Bi-Directional HDMI switcher supports 4K@60Hz, 3D, 1080p, HDCP pass through, UHD Dolby Vision, as well as uncompressed and compressed audio formats. Enjoy maximum video resolution and audio quality while using all of your favorite new generation gaming consoles!
2 Input 1 Output or 1 Input 2 Output
Fosmon HDMI Switch with Bi-Directional function and HDCP Passthrough allows you to connect two high-definition HDMI sources like Blu-ray or PS4 to a single HDMI display. It also allows you to output single high-definition source to two displays.
Powered from Connected Devices
No power adapter is necessary for this switch to function, as long as the connected devices supply sufficient power through the HDMI cable.
Limited Lifetime Warranty
This Fosmon product includes a limited lifetime warranty. Please visit our Fosmon website for more details.
Note:
This switch works best with HDMI cables that are 16 feet (5 meters) or shorter and 26AWG or better.
This switch is powered by HDMI source. Signal stability depends highly on the HDMI source.
Will not output to both displays simultaneously; select which one to use with the select button.
More Information
UPC
879565080242
Specifications

Latest standard HDMI 2.0
3 HDMI Type-A ports
Easily switch between two HDMI video sources to one HDMI display
Easily switch a single HDMI video source between two displays (not simultaneously)
Supports 4k x 2k, 3D, 1080P resolution
Supports HDCP pass-through
Supports 12-bit Deep color per channel; maximum of 32-bits across all channels
Supports uncompressed audio such as LPCM
Supports compressed audio such as DTS Digital, Dolby Digital, DTS-HS and Dolby TrueHD
No power source needed; plug and play functionality
Maximum operating current: 15mA
Manual select push button to alternate between modes
Dual LEDs to display status

Compatibility
HDTV, Blu-Ray, DVD, Satellite, DVR, Apple TV, Chromecast, Roku, FireTV Stick, PS3, PS4, Xbox, Xbox One, Xbox One S, Nintendo Switch, Wii U, Game Capture Cards such as Elgato, AVerMedia and More
Color
Black