#0 Christmas Poly Bubble Mailer 6.5 x 10 inches, Lightweight Water/Dust/Shock/Tear Resistant Padded Shipping Envelopes - Xmas Red White Snow
[KEEP YOUR GIFTS SAFE: WATERPROOF/DUST PROOF/SHOCK PROOF/TEAR PROOF] Made of strong polyethylene plastic with reinforced seams, the bubble mailer will keep your gifts safe during shipping. The padded envelope is resistant to water, dust, shock, and tearing, and is able to withstand potential abuse during shipping.
[LIGHTWEIGHT MAILERS: SAVE ON SHIPPING] Fosmon bubble mailers have a Christmas holiday design, making them stand out from other mailers and show off your holiday spirit. The padded envelopes are lightweight and will help you save on shipping.
[SELF-ADHERING ENVELOPES: EASY TO USE & TAMPER PROOF] The Christmas poly bubble lined envelopes come with a self-adhesive tamper-proof seal, clearly showing if your package has been opened before.
[WATERPROOF ENVELOPES] These padded bubble envelopes are design to be completely waterproof and tear/puncture resistant. They can keep your gift safe even on the rainiest or snowiest days of the holiday season.
[LIMITED LIFETIME WARRANTY] Join millions of satisfied customers with our limited lifetime warranty, backed by our experienced and dedicated USA-based customer service.
Videos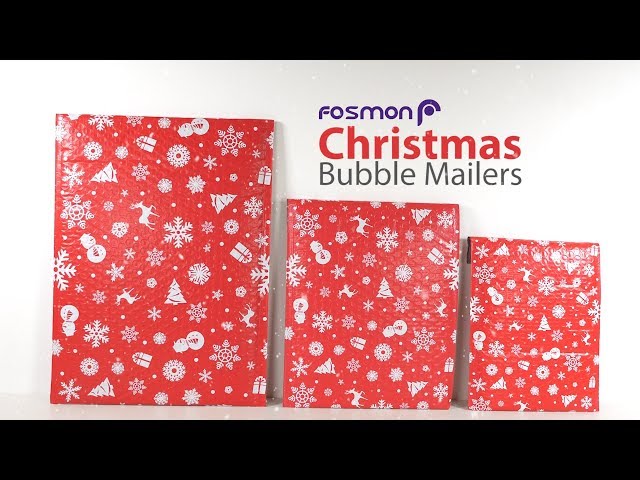 Fosmon's Poly Bubble Mailer Just in Time for The Christmas Holiday
Use Fosmon's bubble mailer to keep your presents and gifts safe during shipping. Made of ultra-strong polyethylene plastic with water-resistant reinforced seams, these padded envelopes will hold up to even the harshest shipping conditions.
Strong and Durable Enough to Keep Your Gifts Safe During Shipping
Fosmon mailers are made from the highest quality materials that provide high-strength seams and a strong adhesive, ensuring your items stay safe until they're opened. The padded envelopes are also water, tear, and puncture-resistant to keep your packages safe during transit.
Approved by Many Shipping Companies
The bubble mailers are approved to use with all major carriers – USPS, UPS, FedEx, DHL and more.
Ink, Stamps, and Mailing Labels Will Adhere Easily
Whatever method you use to adhere an address, the padded poly bubble mailer can handle it. Safely use permanent marker, stamps, or self- adhesive labels without being concerned about them coming off during shipping.
Limited Lifetime Warranty
We have served millions of customers for more than 10 years and every product comes with a limited lifetime warranty. Got a question? Reach out to our experienced and dedicated USA-based customer support 24 hours a day, 7 days a week. Please refer to Fosmon's website for more information.
More Information
Specifications

Material: Polyethylene Bubble Wrap
Exterior Dimensions: 6.5in x 10.5in (16.5cm x 26.7cm)
Usable dimensions: 6.5in x 9in (16.5cm x 22.9cm)