[UL Listed] AC125V/15A In-Wall 4-Hours Countdown Timer - White
[9 Pre-Set Options Timer Switch] The Fosmon in-wall timer switch pre-set the 5-10-15-20-30minutes, 1-2-4 hours countdown and off options. It is suitable for devices running for either short duration, such as bathroom vent fan, or long duration, such as night/security light.
[Illuminated Button and LED Program Indicator] The button stays illuminated with cozy light blue color. The red LED program indicator stays on until the running program ends. The timer is easy to be seen and operated even in a dark room.
[Universal Compatibility] Upgrade your regular light/fan switch to a pre-set timer switch, which saves your energy bill by always turning off your appliances on time. The timer is compatible with your regular single or multiple gang boxes or brackets. Only one single gang cover plate is included.
[Safe and Heavy Duty] The timer is installed with a ground wire for better protection. The safety is certified with UL E211835. The 15A and ½ HP capacity allow you to use it with heavy duty items in your house. The neutral wire is required for the installation.
[LIMITED LIFETIME WARRANTY] Join millions of satisfied customers with our limited lifetime warranty, backed by our experienced and dedicated USA based customer service.
Videos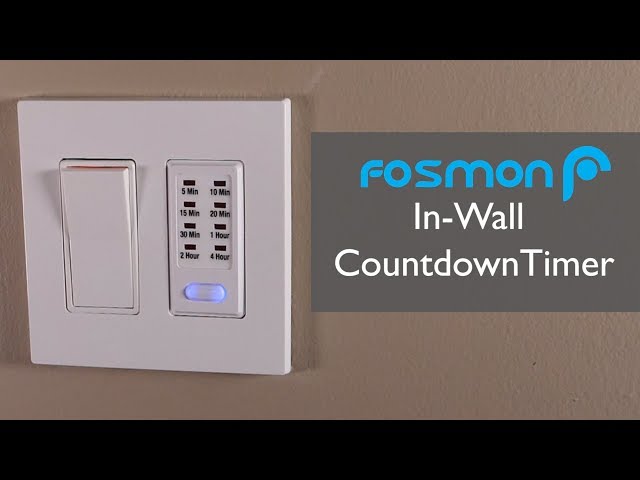 In-Wall 9 Setting Countdown Timer
The Fosmon in-wall countdown timer has 5-10-15-20-30 minutes, 1-2-4 hours and off settings. Press the button repeatedly to select one of the nine settings. The switch will automatically turn off after the selected time runs out. You are able to turn off or change timer setting anytime you want.
Finger-Friendly Illuminated Button
The new design replaces over crowded small buttons with one large illuminated button. The constant illuminated pushbutton and LED program indicators make this switch easy to use day and night.
Perfect for Bathroom Fan and Light Timer
Keep your bathroom exhaust fan running for 10 or 15 minutes after shower, and keep your bathroom dry and clean. Use this light timer to control your porch or deck light, and never forget to turn them off before bed.
Easy Installation and UL Listed
The Fosmon timer switch includes all the accessories you need for installation. You only need to prepare a screw driver. The switch is UL listed and installed with a ground wire for better safety. The neutral wire is required for the installation.
Limited Lifetime Warranty
Fosmon has served millions of customers for more than 10 years and every product comes with a limited lifetime warranty. If you are not completely satisfied with your purchase, reach out to our experienced and dedicated USA based customer service for support 24 hours a day, 7 days a week. Please refer to Fosmon's website for more information.
More Information
UPC
879565082000
Specifications
Specifications

125VAC 60Hz, 15A
1875W General Purpose
1000W Tungsten
500VA Electronic Ballast,
1/2HP, 8.3A Ballast
Certificate: UL E211835
Neutral Wire Required


Package Includes

1x Fosmon In-Wall 4-Hours Countdown Timer
1x Wall Plate
2x Mounting screws (Wall Box) – 0.748 in.
2x Mounting screws (Wall Plate) – 0.33 in.
1x Neutral Wire (White) – 5.9 in.
1x P4 Wire Cup
1x User Manual

Color
White