[ETL Listed] 125v/15A/60Hz 24-hour Indoor Mechanical Timer for One US Polarized Outlet (2-Prongs) - White - 2 Pack
[SIMPLE AND EASY] The Fosmon Polarized 2-Prong Timer Outlet turns your device on and off with up to 48 settings. Each pin on the dial represents a 30 minute interval. Simply press the pins down for the On intervals, or lift the pins up for the Off intervals.
[USER FRIENDLY DESIGN] The dial on the timer is large for easy reading and setting. Flipping pins can be done using your fingers. An override switch will turn on the timer outlet whenever you need the power.
[SAFELY CONTROL YOUR HOME] The timer for the electrical outlet has one polarized outlet that is rated 125V/15A and 60Hz, and is ETL listed for safety. The timer is great for lights, fans, aquariums, coffee machines, or decorations. The mechanical timer is quiet enough for any room.
[ENERGY AND SPACE SAVING] The timer is ideal to power off unused electrical devices for energy saving and safety, and also reset electronic devices, such as routers or Apple/Fire TVs, at night. The timer is compact for easy carrying and occupies only one outlet if used in a duplex receptacle.
[LIMITED LIFETIME WARRANTY] Join millions of satisfied customers with our limited lifetime warranty, backed by our experienced and dedicated USA based customer service.
Videos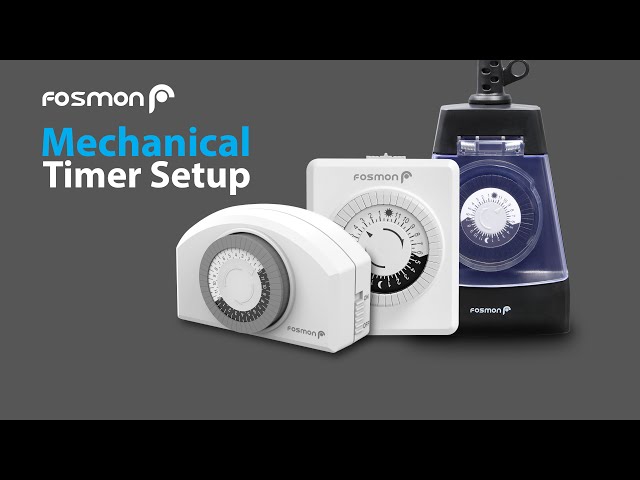 Polarized 2-Prong 24-hour Timer Outlet
The Fosmon indoor mechanical timer allows you to program as many as 48 on/off settings. The outlet timer will automatically turn your device on and off by following your program, repeating the same schedule every day.
Convenient Override Switch
A slide switch allows you to choose between an always-on or timer outlet. You can turn on the outlet instantaneously, and switch back and forth anytime you want. The program settings on the dial won't be affected by the switch.
Compatibility and Safety
The light timer is compatible with LED, CFL, and incandescent light bulbs. The outlet timers are great for holiday lights, lamps, aquarium lights, and plant lights. The timer is ETL listed, and has one polarized outlet for safety.
Set Up In Three Steps
The white and dark areas denote AM and PM respectively. To set a timer, first turn the dial clockwise to the current time. Second, push the pins down to set the desired on intervals. Finally, slide the switch to the Timer position.
Limited Lifetime Warranty
Fosmon has served millions of customers for more than 10 years and every product comes with a limited lifetime warranty. If you are not completely satisfied with your purchase, reach out to our experienced and dedicated USA based customer service for support 24 hours a day, 7 days a week. Please refer to Fosmon's website for more information.
More Information
UPC
879565009502
Specifications
Specifications

110-120V AC Outlet
15 Amp Max
125VAC 60Hz/15A Resistive
125VAC 60Hz/15A, General Purpose
125VAC 60Hz/10A, 1250W Tungsten
125VAC 60Hz/5A, Fluorescent
ETL Listed


Package Includes

2x Fosmon 24-hour Indoor Mechanical Timer - White
1x User Manual

Color
White
Pack Quantity
2