Fosmon HDTV Antenna, 2020 Latest, Ultra Thin Indoor Digital TV Antenna Up to 120 Miles Ranges, 4K Ready, ATSC 3.0, UHF, VHF, 1080p TV Channel, Amplifier Signal Booster, 10FT Coaxial Cable (Black)
[FREE HD TV PROGRAMMING FOR LIFE] Ready to shrink your cable bill and enjoy FREE TV for life? With Fosmon's TV antenna, you will have access to free FULL HD channels, from Local News to Kids and Sports, Weather Forecasts, Cartoons and Educational Program including ABC, CBS, CW, FOX, NBC, PBS and more! The antenna is compatible with NextGen TV (ATSC 3.0) to receive 4K OTA Broadcasts. Note: A built-in or external NextGen TV tuner is required to receive 4K content.
[CLEAR FULL HD 1080P/ULTRA HD 4K TV AND SOUND] Our smart HD antenna includes a POWERFUL amplifier signal booster to add range and maximize the VHF/UHF signal reception for more channels. Stronger HDTV Antenna signal pulls in more shows and enjoy crystal clear HD TV shows, 720p, 1080i, 1080p, 4K with low noises.
[GREAT RANGE OF SIGNAL RECEPTION] This indoor HDTV antenna can reach up to 120 miles (A total radius of 120 miles, or 60 miles from the broadcast tower). Please first visit "antennaweb.org" or "antennapoint.com" to check how many broadcast towers are within 60 miles of you. Discover how many free channels are available from your local broadcasters!
[ULTRA THIN AND EASY TO USE] The ultra-thin design allows the antenna to fit seamlessly into your entertainment area. Hang the TV antenna on a window or wall, or wherever it gets the best reception in your house. [IMPORTANT: If a signal cannot be received with the amplifier, kindly remove the antenna amplifier and try again.]
[LONG COAX CABLE & POWER ADAPTER] The digital TV antenna has a long 9.8ft/3m cable coaxial cable that allows it to reach optimal placement areas for the best signal capture. The UL LISTED power adapter has built-in short-circuit/over-voltage/over-current protection and is totally safe to use.
Videos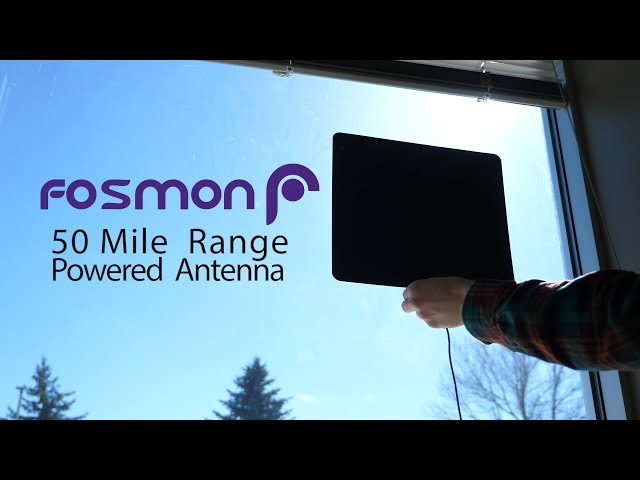 Special Price
$19.99
was
$32.99
Free Digital HD and UHD Content
Receive 1080P HD and 4K OTA content from local broadcasting stations like ABC, CBS, CW, FOX, NBC, and PBS without any monthly subscriptions. Connect this antenna to the antenna port of your TV set.
Maximum Signal Range of Miles
A range of up to 120 miles allows for great signal traversal to keep the playback smooth without any hiccups or freezing.
Amplified Power with the Signal Booster
The signal booster attaches to the end of the antenna to provide stronger signals. An included power adapter keeps it powered.
Ultra-Thin Design
The ultra-thin design of the antenna means it will keep a low profile while attached to walls or windows. This helps to keep the entertainment area sleek and free from clutter.
Long Cable for Greater Placement Options
Reach high and optimal placement areas for greater signal capture with the 9.8ft / 5m long cable connector.
Limited Lifetime Warranty
A limited lifetime warranty is included with your Fosmon product. Please visit Fosmon's website for more details.
More Information
UPC
879565081898
Specifications

Specifications:

Max Range: Up to 120 miles (total radius of 120 miles or 60 miles from the broadcast tower)
Frequency: VHF (170-240Mhz) / UHF (470-860Mhz)
VSWR: ≥2.0 : 1
Impedance: 75Ω
LNA Gain: 25dB
Connector: F Type Coaxial Male
Cable Length: 9.8ft / 3m
Polarization: Linear
Voltage/Current: 5V/30mA
Signal Booster: F Type Coaxial Female to F Type Coaxial Male
Signal Booster Power Adapter: Level 6 Energy Efficient US Adapter

Color
Black