WaveLink Wireless Motion Doorbell Alert Sensor - 52 Ringtones (1 Receiver and 1 Motion Sensor) – White
5-Digit Combination Bike Lock Cable - 6ft - Black
[KEEP YOUR BIKE SAFE AND SECURE WITH FOSMON'S 5 DIGIT COMBINATION BIKE LOCK] Fosmon's bike lock provides a strong and secure solution for keeping your bike safe when it is out of sight. The included bike mount will insure you have your lock with you every time you go out to the bike.
[EXTREMELY STRONG AND DURABLE] The bike lock is made of a 12mm braided steel cable coated in PVC to help prevent corrosion and easy cutting. The hardened zinc alloy lock core and shackle are built to withstand punishment from the elements and most potential thieves.
[100,000 COMBINATION POSSIBILITIES] With 100,000 possible combinations, the 5 digit cable lock is nearly impossible to break into. The lock offers you 90,000 more combinations than the typical 4 combination lock.
[LOCK ANYTHING, ANYWHERE] The bike lock and its coil design provide the flexibility to lock not just your bike, but your yard equipment, exercise equipment and many other things.
[LIMITED LIFETIME WARRANTY] Join millions of satisfied customers with our limited lifetime warranty, backed by our experienced and dedicated USA based customer service.
Videos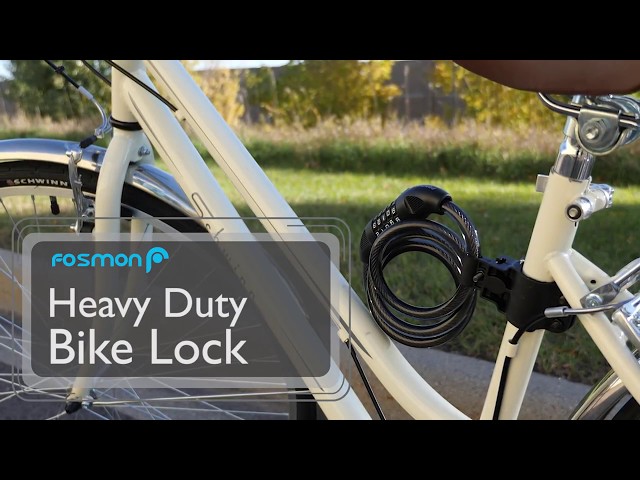 5 Digit Combination Cable Bike Lock with included bicycle mount
Fosmon's 5-Digit Bike Lock provides you keyless convenience in a strong package, giving you peace of mind that your bike will be safe and secure. The cable lock comes with an included bike mount, giving you the ability to always have it with you on every ride. It is the prefect bicycle accessory.
Strong and Durable Cable Lock
The bicycle lock is made of a 6-foot coiled steel cable and a hardened zinc alloy lock core and latch and coated with a PVC and ABS shell. All of which adds up to an incredibly strong cable lock made to keep your bike safe when locked up.
1000's of Combination Possibilities
The 5 Digit Bike lock offers the possibility of 100,000 different combinations, giving you the closest thing to a sure bet that your lock combination will not be hacked, or lock broken into. NOTE: Please write down the combination when chosen, and store in a secure space.
Can be used to lock anything, anywhere.
It's not just a bike lock. Use Fosmon's 5 Digit cable lock to secure everything from yard equipment, to exercise equipment and more.
Limited Lifetime Warranty
We have served millions of customers for more than 10 years and every product comes with a limited lifetime warranty. Got a question? Reach out to our experienced and dedicated USA based customer support 24 hours a day, 7 days a week. Please refer to Fosmon's website for more information.
More Information
UPC
879565510718
Specifications
Specifications:

Length: 6 feet
Weight: 14.2oz (402g)
Cable Material: Braided Steel / PVC
Shackle Material ABS / Zinc Alloy


Package Includes:

1x 5-Digit Cable Bike Lock
1x Cable Lock Bike Mount

Color
Black