4-in-1 Charging Dock for Nintendo Switch Joy-Con Controller with LED Indicator (Package includes: Charging Dock and 3.3ft Type-A Cable)
[FOSMON'S JOY-CON CHARGING DOCK IS YOUR COMPLETE CHARGING AND STORAGE SOLUTION] Simultaneously charge and store your Nintendo Switch Joy-Con controllers without the need of any extra equipment. The straightforward operation and construction make the charging dock an easy to use addition to any Nintendo Switch Console.
[4 IN 1 CHARGING CAPABILITY] Whether you need to charge 1 or 4 Joy-Cons, the Fosmon Joy-Con charging dock has you covered. With a short 3.5 hour charge time for a completely empty Joy-Con, you will be able to continue to play while charging a backup set. Also, compatible with Nintendo Switch Joy-Con NES controllers.
[LED CHARGING INDICATORS] The charging dock includes red and green LED indicator lights to inform you of the charging state of your Joy-Cons. Red indicates charging, and green indicates charging is complete.
[STABLE AND SECURE BASE] The broad base and rubberized feet allow the dock to stay put, with no tipping or sliding, keeping your controllers safe and secure during charging and storage.
[LIMITED LIFETIME WARRANTY] Join millions of satisfied customers with our limited lifetime warranty, backed by our experienced and dedicated USA based customer service.
Videos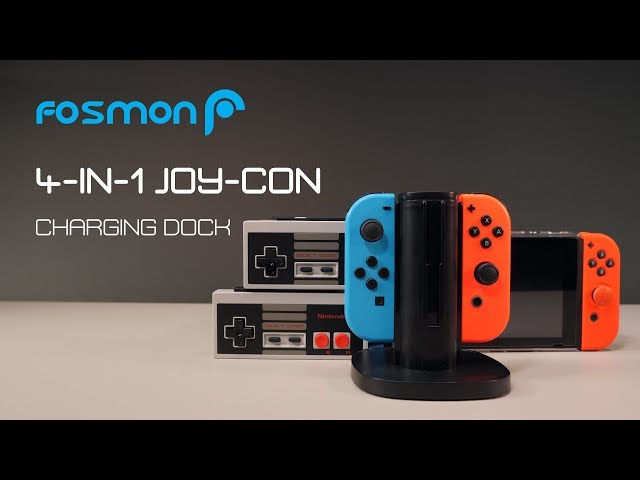 Availability:
Out of stock
Fosmon's Joy-Con Charging Dock Gives You a Storage and Charging Solution in One
The Joy-Con charging dock combines the ability to charge up to 4 controllers with the ability to store them safely. Provided with a sturdy stand and perfectly formed charging slots, your Joy-Cons will be ready to go for your next gaming session.
Simultaneously Charge your Joy-Con Chargers
The dock will charge between 1 and 4 controllers. The charging slots allow for the Joy-Cons to be placed in facing backward or forwards, so you can't get it wrong. Whether you are charging 1 or 4, you will be able to charge a completely empty Joy-Con in as little as 3.5 hours. Also, compatible with Nintendo Switch NES Joy-Con controllers.
Integrated LED Charging Indicators
With its built-in LED indicators, the Joy-Con charger will tell you exactly when the controllers are ready to use. The Red LED indicates charge, and will subsequently change to a green LED when charging has completed. The LED will stay illuminated and indicate charge until the Joy-Con is removed.
Strong and Secure Construction
Built with strong ABS plastic, this charging dock will safely and securely store and charge your controllers. The base is built to not tip over. The included rubber feet keep the charging dock from sliding. The dock is outfitted with a Type-C port and charging cord.
Limited Lifetime Warranty
Fosmon has served millions of customers for more than 10 years and every product comes with a limited lifetime warranty. If you are not completely satisfied with your purchase, reach out to our experienced and dedicated USA based customer service for support 24 hours a day, 7 days a week. Please refer to Fosmon's website for more information.
More Information
UPC
879565107260
Specifications
Specifications

Input: DC 5V/≤ 500mA
Output: DC 5V/100mA x4
Dual colored LED light indicator (Red: Charging, Green: Charged)


Package Includes

1x Charging Dock
1x 3.3 foot (1 meter) Type-A Charging Cable.
1x Quick Start Guide

Color
Black